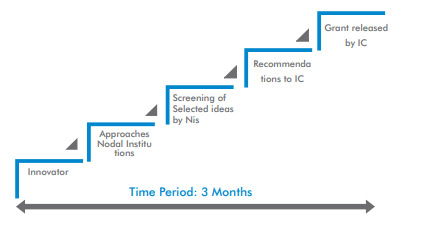 Nodal Institute, Industries Department, Government Of Gujarat.
Startups in an economy's technology sectors is an important indicator of technological performance for several reasons: first, the formation of new firms that focus on the development and introduction of new technology is a major source of innovation and technological advance. Many of these Startups transfer new knowledge or new ideas into products and processes into commercial applications. Startups are likely to bring in new solutions and challenge established by individuals/ companies that enter these new markets. To support startup moment Govt. of Gujarat has introduced Scheme for Assistance to Startup.
Scheme Eligibility
Any individual/group of individuals having innovative idea/Concept will be eligible.
Assistance for Innovation
10,000/- per month will be provided to the innovator as sustenance allowance for one year whose project is recommended and approved by institution's Screening Committee.
Up to Rs. 10.00 Lakh assistance will be provided for Cost of Raw Material/Components & other related equipment required for the innovative process for the new product development based on approval of the Screening Committee.
Institution will support to the innovator by providing mentor services.
Institution will allow the innovator to use facilities available in the institution for startups.
Institute will support selected innovator to get free access to University/Libraries/Govt. Laboratories/PSUs to have more clarity on his innovative ideas/concept.
Assistance once the Idea/Concept get commercialized
Marketing/publicity assistance of up to Rs. 10.00 lakh will be provided for the introduction of innovated product in the market.
Project of Innovated Product will be assisted in getting Venture Capital.
VAT Related Incentive
The eligible unit shall pay the net VAT payable under the provisions of the Gujarat VAT Act, 2003 in the Government treasury.
The eligible unit will be allowed reimbursement to the extent of 80% of the net VAT paid excluding the following: (a) Additional Tax, and (b) Reduction of ITC as per the provisions of the G VAT Act, 2003.It is clarified that the amount paid on account of additional tax and the reduction of ITC as per the provisions of the G VAT Act, 2003 shall not be reimbursed.
Only 70% of eligible fixed capital investment of eligible unit will be considered for reimbursement.
The reimbursement will be available for a period of five years from the date of production or the completion of limit of 70% whichever is earlier.
The eligible unit shall be entitled for reimbursement up to 1/5th of eligible limit in a particular year.
Restrictions will he made to ensure that the amount reimbursed is not again claimed by the subsequent dealers by way of tax credit for interstate sales, branch transfer, consignment and export.
The eligible unit shall manufacture the goods in its own unit for which it is eligible for incentives
The eligible unit shall not transfer its business during the incentive period, nor assign its rights and responsibilities to any other agency.
The eligible unit shall remain in production during the incentive period.
The scheme shall be reviewed under the GST regime, but the total of assistance shall not exceed that available under this scheme.
Swarrnim SSIP Cell (Approved by SSIP Cell, Education Department, Govt. Of Gujarat)
Student Startups and Innovation Policy (SSIP) is a unique initiative of Government of Gujarat that aims to create an integrated, state-wide, university and institute based innovation ecosystem to support innovations and ideas of young students and provide a conducive environment for properly harnessing their creative pursuit. This policy is in synchronization with central efforts like the Make in India, Startup India, Atal Innovation Mission, National Innovation Council etc. It has following key objectives :-
Developing student centric Innovation and Pre-incubation Ecosystem for Students.
Creating environment for creativity to flourish and an end-to-end support system in educational institutions to allow ample support to ideas for better execution.
Build internal capacity of educational institutions and key components of the innovation ecosystem.
Create pathways for mind to market.
Create a common platform to showcase, support and upscale innovations for motivating stakeholders as well as for an opportunity to create value for money and value for many.
What is expected ?
Innovative Idea that creates value for society and has potential for job creation
Ideas can include - product or service that is not currently being offered elsewhere in the market, or if offered are at inferior levels.
What kind of support is provided ?
Financial support up to Rs. 2 lakh to develop Proof of Concept (PoC) and prototyping. This includes support up to maximum 75% towards procurement of items and towards minor work such as fabrication, electrical work, etc. and remaining 25% towards payment for professional services such as product design, testing, etc.
Financial support up to Rs. 25,000 for filling patent and other IP.
Access of pre-incubation facilities and other Institute resources
Technical support and Mentoring
Projects requiring higher funding will be recommended to State Level SSIP committee.
Who are eligible to apply ?
Any Individual or Group of students from any Institute or University
Alumni of any Institutions (up to last 5 years)